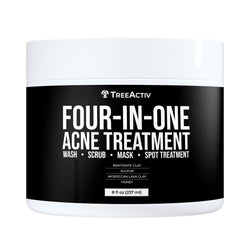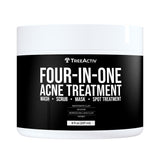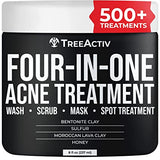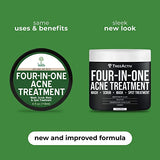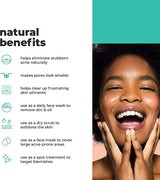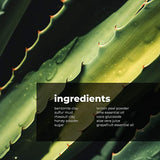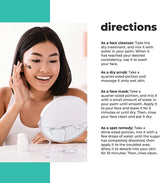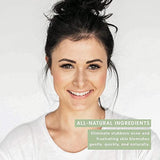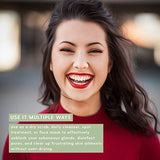 Four-in-One Acne Treatment


This 4-in-1 acne treatment cleanses, exfoliates, and heals. Experience the quadruple skincare goodness of our acne solution that works as a cleanser, face scrub, mask, and spot remedy. Stubborn blemishes, excess oil, flare-ups, blackheads, and whiteheads don't stand a chance against our powerful blend of ingredients.

Sulfur is known to counter acne by removing dead skin cells, drying excess oil, and inhibiting the growth of bacteria that cause blemishes. In addition to Sulfur's anti-inflammatory, antimicrobial, and antiseptic properties, our 4-in-1 treatment contains Bentonite Clay, an intensely absorbent clay known to absorb excess oil, draw out toxins from the skin, dry out blemishes, and regenerate skin tissues. Grapefruit Essential Oil and Rhassoul Clay reinforces our acne treatment's healing properties. Grapefruit is a rich source of limonene, a compound that promotes exfoliation and skin cell turnover, while Rhassoul Clay naturally cleanses, hydrates, and removes unwanted oil.
Many toxins in the skin are positively charged. When Bentonite Clay and Rhassoul Clay are mixed with water, they become negatively charged. This reaction allows the clays to latch onto and flush away impurities out of the skin.
We at TreeActiv take pride in providing high-quality, nature-powered personal care products. Your beauty, wellness, and health are important to us as much as they are to you. That's why we only use the finest ingredients from nature and say no to potentially harmful chemicals. We also make sure to have minimal impact on the environment while harvesting our ingredients and creating our products.
All our products are veg, paraben-free, SLS-free, and cruelty-free.
How It Helps Your Skin
Reduces The Appearance Of Acne
Helps Control Sebum Production
Deep Skin Cleansing
Gently Exfoliates Skin
Removes Excess Oil & Impurities
Clears Away Dead Skin Cells
Domestic orders:

Orders will be shipped from our warehouse in Florida.

International orders: Available for a flat rate. We cannot be held responsible for any import duties.
Please allow up to 3 business days for us to process, pack, and ship your order.
Orders are shipped out Monday - Friday, excluding public holidays.

Orders under 1lb will be shipped by USPS first class post. Shipments over 1lb will be shipped by USPS Priority post. Shipments over 3lbs will be shipped by UPS Ground.

You can also choose expedited shipping for any order weight.

Have any questions? See our Frequently Asked Questions.
Free shipping does not apply on Isopropyl Alcohols 16 fl oz and 32 fl oz.
Have a specific question? Email us by visiting the Contact Page.
FIND YOUR SOLUTION GUARANTEE
At TreeActiv, we are confident our natural products will produce remarkable results, which is why we back them with a 100% Lifetime Guarantee. If you're ever dissatisfied, message us for a full refund & keep the product as our gift.
Get more information about shipping rates, schedules, methods, restrictions, and International Shipping. 
Have any questions? See our Frequently Asked Questions.
Have a specific question? Email us by visiting our Contact Page.
FREQUENTLY BOUGHT TOGETHER