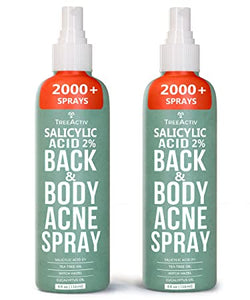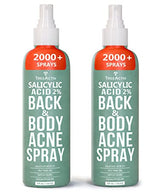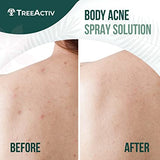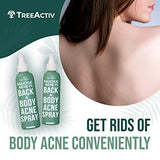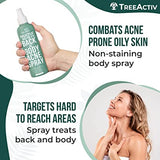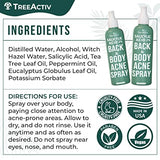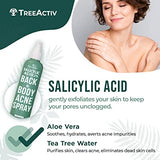 Acne Body Spray 4oz 2-pack
Get Clear Skin from Neck to Toe
Master the art of severe acne skincare regimen with our nature-powered treatments. This helps combat zits until you achieve body pimple clearance.
Our clarifying mist lessens the look of all body acne blemishes thanks to its plant-based ingredients like Witch Hazel, Tea Tree Water, Menthol, Spearmint Water, and Aloe which deeply cleanse and strip away irritants. Unlike other zit removers, our daily spray for adults and tweens does not have Benzoyl Peroxide which may cause skin irritation.
This refreshing, quick-drying spray gently exfoliates and is easily absorbed by your skin, eliminating dirt, deep-cleaning pores, and gradually fading pimples, marks, redness, and swelling. For the ultimate exfoliation, use our hydrating back acne spray with our Sulfur Acne Exfoliating Body Wash scrub for best results. Complete your Korean bundle or essential acne set or kit with our Acne Treatment Face Spray for facial acne and our moisturizers, Acne Scar Cream, and Acne Treatment Face Cream Moisturizer with Hyaluronic Acid.
Our 8-ounce pimple remover comes with acne covers that dry out zits, so you get a potent acne system. Unlike ordinary microneedle bandaid, zapper, popper, tape, scrubber pad, zit-popping products, micro-needling bandages, pimple terminator bandaids, or astringent pads, our acne sticker is clear and ultrathin. It works as a potent eliminator and cleaner and even helps prevent acne scarring.
Functions
pregnancy-safe healing and eraser solution pack for active acne
day or nighttime scalp, chin, body, and booty spray
topical acne spray for teens, boys, girls, kids
balancing nodular acne, white head, and blackheads treatment for the body
men and women aftershave exfoliator spray
after-shower antioxidant spray
herbal detox butt acne treatment for sensitive skin
Directions For Use:
Spray over your body, paying close attention to acne-prone areas. Allow to dry, and do not rinse. Use it anytime and as often as desired. Do not spray near the eyes, nose, and mouth.
Ingredients:
Distilled Water, Alcohol, nHamamelis Virginiana (Witch Hazel) Water, Aloe Barbadensis Leaf Juice, Salicylic Acid, Polysorbate 20, Menthol (L), Melaleuca Alternifolia (Tea Tree) Leaf Oil, Mentha Piperitam (Peppermint) Oil, Eucalyptus Globulus Leaf Oil, Potassium Sorbate 
Warning:
Avoid contact with eyes. Discontinue use if any adverse reaction occurs. This product is for external use only and should be kept out of reach of children. Store in a cool, dry environment. We never test anything on animals - just happy humans.
Domestic orders:

Orders will be shipped from our warehouse in Florida.

International orders: Available for a flat rate. We cannot be held responsible for any import duties.
Please allow up to 3 business days for us to process, pack, and ship your order.
Orders are shipped out Monday - Friday, excluding public holidays.

Orders under 1lb will be shipped by USPS first class post. Shipments over 1lb will be shipped by USPS Priority post. Shipments over 3lbs will be shipped by UPS Ground.

You can also choose expedited shipping for any order weight.

Have any questions? See our Frequently Asked Questions.
Free shipping does not apply on Isopropyl Alcohols 16 fl oz and 32 fl oz.
Have a specific question? Email us by visiting the Contact Page.
FIND YOUR SOLUTION GUARANTEE
At TreeActiv, we are confident our natural products will produce remarkable results, which is why we back them with a 100% Lifetime Guarantee. If you're ever dissatisfied, message us for a full refund & keep the product as our gift.
Get more information about shipping rates, schedules, methods, restrictions, and International Shipping. 
Have any questions? See our Frequently Asked Questions.
Have a specific question? Email us by visiting our Contact Page.
FREQUENTLY BOUGHT TOGETHER