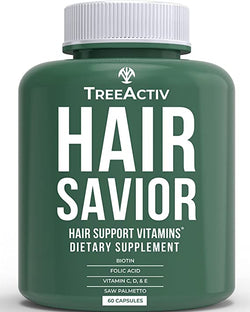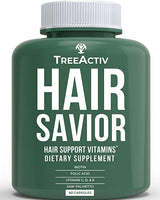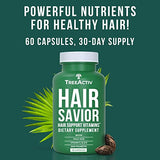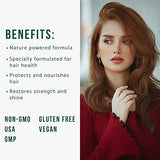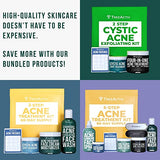 Healthy Hair Growth Starts From Within
TreeActiv Hair Savior is formulated with vitamins, minerals, and herbs that support hair health, eliminate impurities from the body and boost your body's natural defenses by blocking DHT. Ingredients like Biotin, Vitamin A, Vitamin B5, and Zinc treat nutrient deficiencies that are linked to hair loss and provide the body the nourishment it needs to grow hair that's well-moisturized and less prone to damage. Herbs like Horsetail, Kelp, Bamboo Extract, MSM, and Saw Palmetto support your body's ability to grow hair and help prevent hair loss.
Directions For Use:
As a dietary supplement, adults take two (2) capsules daily with a meal, or as directed by a healthcare professional.
Ingredients
Vitamin C (Ascorbic Acid), Niacin (Niacinamide), Biotin, Calcium, Iron, Zinc (Zinc Oxide), Horsetail (Stem) Extract, Vitamin E, Vitamin B6, Pantothenic Acid, Kelp (Whole Plant), Inositol, Ginkgo Biloba (leaf), Bamboo Extract 70% Silica, Vitamin A, Vitamin D3, Vitamin B2, Folate (Folic Acid), Vitamin B12, MSM, Saw Palmetto
Find Your Solution Guarantee
At TreeActiv, we understand that there is no one size fits all solution to skin issues, so we stand by all our products with the Find Your Solution Guarantee. If this product isn't the solution to your skin problems, we will work with you to find a different TreeActiv product that is, and provide you with a full refund.
Warning:
If you are pregnant, nursing, taking any medication, planning any medical procedures, or have any pre-existing medical conditions, consult your physician before use. If any adverse reaction occurs, discontinue use, and consult a physician immediately.

* These statements have not been evaluated by the Food and Drug Administration. This product is not intended to diagnose, treat, cure, or prevent any disease.

Domestic orders:

Orders will be shipped from our warehouse in Florida.

International orders: Available for a flat rate. We cannot be held responsible for any import duties.
Please allow up to 3 business days for us to process, pack, and ship your order.
Orders are shipped out Monday - Friday, excluding public holidays.

Orders under 1lb will be shipped by USPS first class post. Shipments over 1lb will be shipped by USPS Priority post. Shipments over 3lbs will be shipped by UPS Ground.

You can also choose expedited shipping for any order weight.

Have any questions? See our Frequently Asked Questions.
Free shipping does not apply on Isopropyl Alcohols 16 fl oz and 32 fl oz.
Have a specific question? Email us by visiting the Contact Page.
FIND YOUR SOLUTION GUARANTEE
At TreeActiv, we are confident our natural products will produce remarkable results, which is why we back them with a 100% Lifetime Guarantee. If you're ever dissatisfied, message us for a full refund & keep the product as our gift.
Get more information about shipping rates, schedules, methods, restrictions, and International Shipping. 
Have any questions? See our Frequently Asked Questions.
Have a specific question? Email us by visiting our Contact Page.
FREQUENTLY BOUGHT TOGETHER