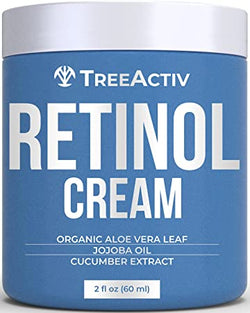 Repair wrinkles and fine lines while you sleep. Our Retinol Cream is a day and night cream that restores elasticity while delivering hydration to visibly reduce the signs of aging. We've perfectly captured the age-defying power of Retinol and blended optimal concentrations of Hyaluronic Acid to deliver plumpness and diminish dullness.

A form of vitamin A, Retinol is naturally converted by the body to retinoic acid to encourage cell regeneration, treat hyperpigmentation, boost moisture, and increase collagen and elastin production. Hyaluronic Acid plays a critical role in the production of collagen and has the ability to hold 1,000 times its own weight in water, making it a vital nutrient for maintaining skin moisture, preventing dry skin, and fighting the early signs of aging. Hydrovance intensely moisturizes - this compound is a super moisturizer known to deeply hydrate skin without leaving that sticky sensation.
We at TreeActiv pay special attention to the health and wellness of our customers while being mindful of our actions at protecting the planet. That's why we use plant-derived ingredients and avoid potentially harmful chemicals. This retinol skin cream is 100% vegan and palm oil-free. Our botanical ingredients are non-toxic so they do little to no harm when released into the environment.
Experience an anti-aging treatment that is kind to your skin. This product is also paraben-free, SLS-free, and non-GMO.
How It Helps Your Skin
Reduces Wrinkles & Fine Lines
Reverses Visible Signs Of Aging
Replenishes Lost Collagen
Brightens Dark Spots & Age Spots
Delivers An Intense Moisture Boost
Promotes Cell Turnover

Size: 2 fl oz (60 ml)
Domestic orders:

Orders will be shipped from our warehouse in Florida.

International orders: Available for a flat rate. We cannot be held responsible for any import duties.
Please allow up to 3 business days for us to process, pack, and ship your order.
Orders are shipped out Monday - Friday, excluding public holidays.

Orders under 1lb will be shipped by USPS first class post. Shipments over 1lb will be shipped by USPS Priority post. Shipments over 3lbs will be shipped by UPS Ground.

You can also choose expedited shipping for any order weight.

Have any questions? See our Frequently Asked Questions.
Free shipping does not apply on Isopropyl Alcohols 16 fl oz and 32 fl oz.
Have a specific question? Email us by visiting the Contact Page.
FIND YOUR SOLUTION GUARANTEE
At TreeActiv, we are confident our natural products will produce remarkable results, which is why we back them with a 100% Lifetime Guarantee. If you're ever dissatisfied, message us for a full refund & keep the product as our gift.
Get more information about shipping rates, schedules, methods, restrictions, and International Shipping. 
Have any questions? See our Frequently Asked Questions.
Have a specific question? Email us by visiting our Contact Page.
FREQUENTLY BOUGHT TOGETHER